Welcome to the land of Books
Here you will find humorous poetry books brimming with rhyming poems on dinosaurs, coronaviruses, cats, heiresses, lions and clowns. You can also get to know about your favorite authors and their visits.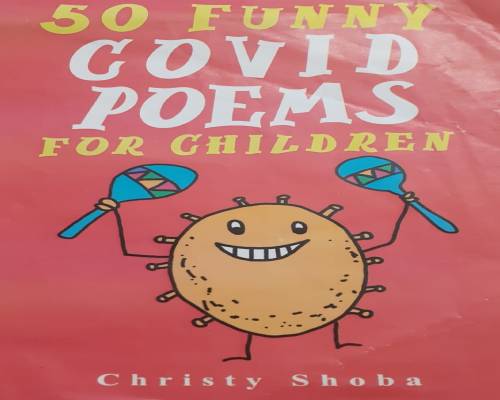 The world's first humorous Covid poetry book for children!
Super spreader Susan,
Is a bit of cold poison
When she picked the flu,
She passed it without clue……
Have you ever met a globe trotter like Mr. Corona? Do you know what it's to tango with lady Coronella? Would you like to pat a cat with pandemic blues? "50 FUNNY COVID POEMS FOR CHILDREN" is a collection of whimsical rhymes and wacky illustrations, where quaint characters like super spreader Susan, Christopher copper pandemic stopper and sanitizer Sabrina Agner pop up throughout the book. Rib-tickling rhymes of mask-mania, sanitizer frenzy, bitter portion formula blunders, online schooling escapades , cleanliness obsessions and all the pandemonium that kicked up in the pandemic gushes out of this book in the most humorous way. So, on your mask get set go.